Some years ago, my Neurologist said to me, "You sing, right?" And the rest, as they say, is history. I'm not sure how many years it has been since that fateful question, but this Plague Year is the first year since then that I've not been a part of the When Patients Heal You annual concert. COVID kind of got in the way of that.
As a part of this enterprise, I've been in a documentary, I've flown to Dallas as a patient ambassador to perform, give an interview, and show people that disabled folks (in this case, specifically folks with epilepsy) live whole, full lives. I've also performed for the Epilepsy Foundation, met other fabulous musicians that I've performed with elsewhere, and become more confident in myself as a disabled adult. I've found my voice as an activist, and I love it.
Denise was a part of that journey. The first year that I was a part of the annual concert series we all attended a group rehearsal. I didn't see her at first. She was quietly sitting in the chairs of the lecture hall at the BU Medical School where we were having our dress rehearsal. No smart phone, nothing to keep her busy, just relaxing and quiet. I didn't really notice her.
Then Moisès led her up to the piano, adjusted the mic, and spoke a few soft words to her. She played a scale or two and I didn't think much of it. I was looking at my phone, probably either on twitter or texting Geoff.
Then the house came down.
Figuratively, of course, but it might as well have been true. It was like a switch flipped and this diminutive woman in a long skirt and blouse might as well have lit the keyboard on fire. All of the sudden every single person in the room was silent and watching her play and sing. I don't remember what I was doing because it no longer mattered. She was up there singing and playing and she had the full and complete attention of every person in the room and probably some people in the hall too.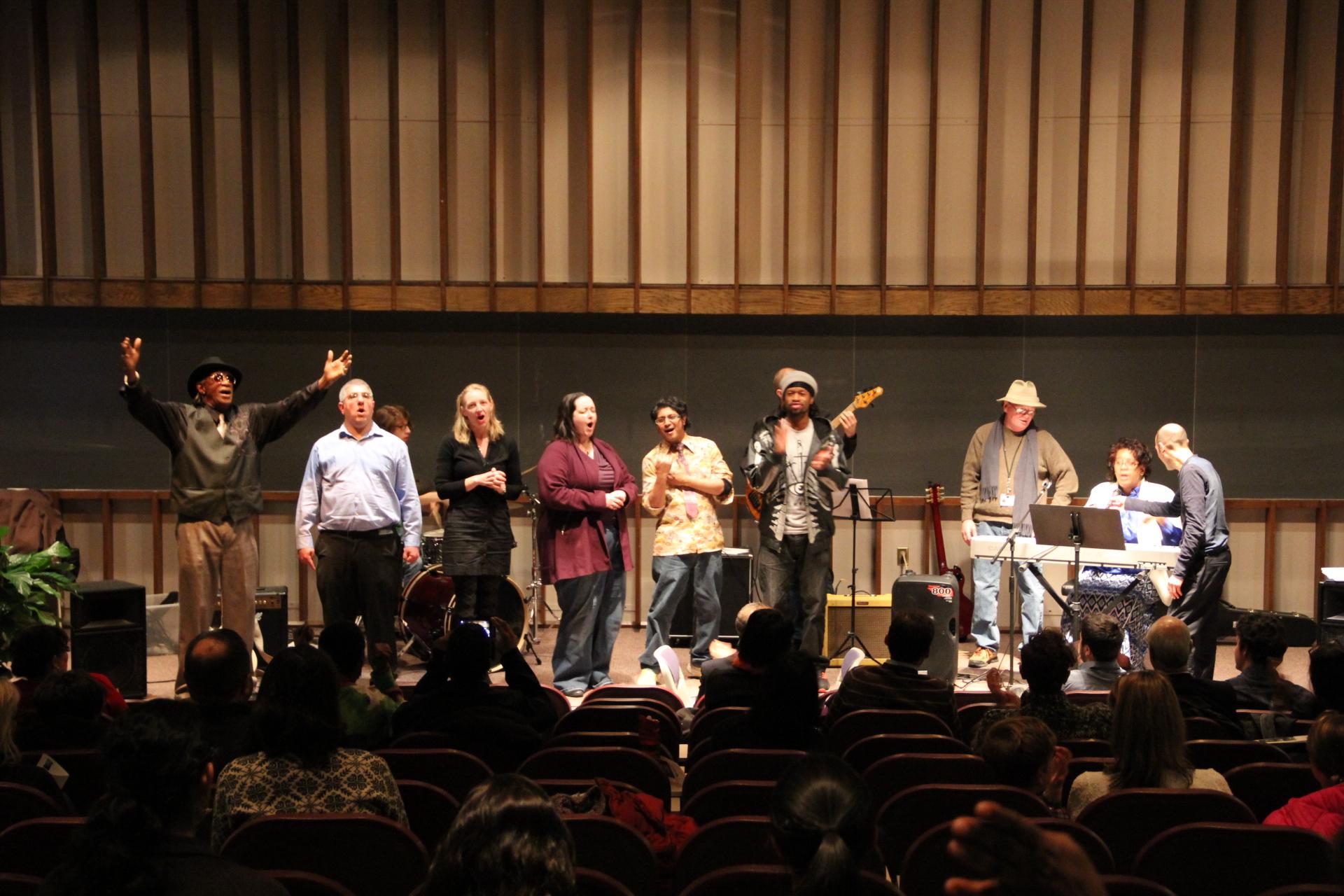 That was Denise. When she finished her rehearsal we all applauded. She demurred. Then Moisès asked her about her second song. Another one? The switch flipped and she did it again, only this time is was a piece of her own composition, written about a seizure that had nearly killed her.
And so it was with Denise. She was an outstanding musician and she was very funny. She had her faith, her friends, and her family. She was amazed at the beauty in God's creation around her, effusive with her praise of others, and always demurred after she finished setting the keyboard aflame. I spent the ensuing years collaborating with her and encouraging her to remember that compliments were not empty flattery and that she deserved them – she'd earned them. In the immortal words of Dizzy Gillespie, "If you can do it, it ain't bragging." She could do it all right, and she was still content to let others stand in the spotlight.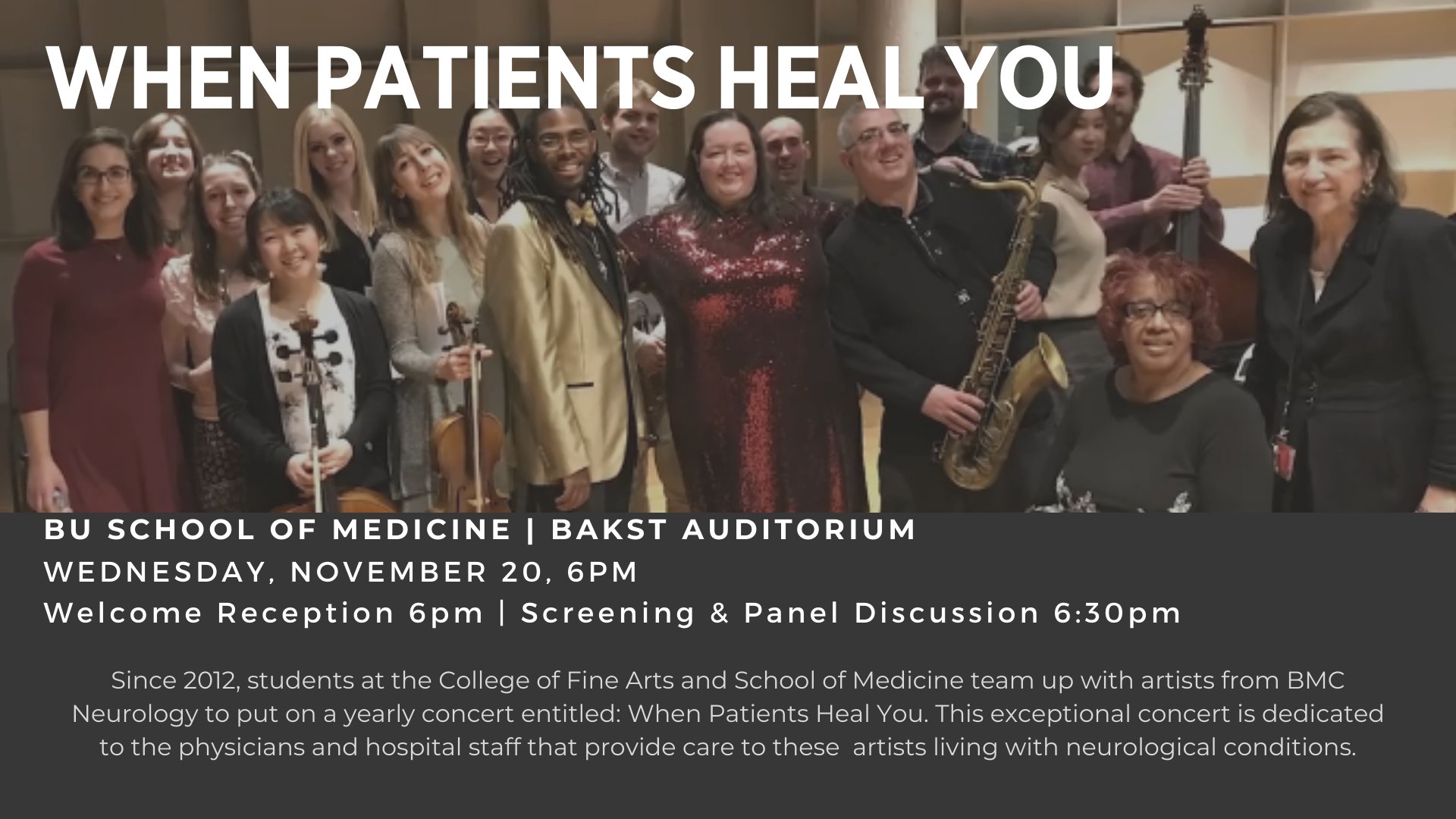 When we went to Dallas to the largest hotel I have ever been in, she was absolutely gleeful the whole time. We each had our own rooms, the meals were outrageous, and we were treated like royalty. She said, "I feel like a princess!" Most importantly she said, "I feel like I matter."
She did. She mattered so much.
Her obituary will tell you all of the details of her family, her church life, her career, her college degree (achieved just 5 years ago!), and so much more. I was a bit player in her story, but she left an indelible mark in mine.
We're trying to sort out if we can put together a remote, COVID safe, When Patients Heal You event in her memory and honor for early 2021. If we can, you'll find details in this space and online at the BU Arts Lab.
Goodbye, Denise. The music in heaven got a whole lot more interesting when you arrived.
Kelly